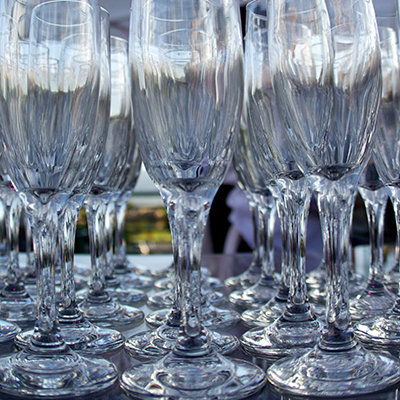 Alcoholic Beverage Service
All beverages must be consumed in the designated facility. Alcohol can only be served by a licensed Dining and Hospitality Services bartender.
Certificate of Responsibility form must be filled out a minimum of three (3) weeks prior to all events with alcohol service - Click HERE for the Approval Form. Dining and Hospitality Services reserves the right to limit or refuse alcohol service to any person. Refer to page 7of the Catering Guidelines to review alcohol guidelines.
Beer, Wine and Soft Drink Bar
Events including a limited bar will include all supplies exclusive of alcohol, soft beverages, and bottled/Perrier water: portable bar, compostable glassware, napkins, and ice. Full bar glass service can be added for an additional charge and will require a service attendant. We recommend one (1) bartender for every 75 guests. The charge for a bartender is $75 for the four hour minimum, and $20 per hour for each additional hour.
Hosted bar prices (by the bottle)
Champagne bottles | priced per bottle based on brands selected
Premium/Micro beers | $6.00
House wine | $30.00
Premium red wine | $60.00
Premium white wine | $45.00
Bottled Water, Assorted Canned Soda (Pepsi & Coke products) | $1.00
Perrier Water | $3.00
*Wine is sold by the bottle except at a cash bar.